Diagnosis made possible with Whole Genome Sequencing
Whole Genome Sequencing (WGS) is a comprehensive test that covers up to 98% of the whole human genome.
Advancements in next-generation sequencing technology are poised to revolutionize diagnostic testing by the introduction of Whole Genome Sequencing (WGS). Your patient and family may have spent years undergoing multiple genetic testing without avail, which is why WGS may be the perfect test to potentially end their diagnostic odyssey. Alternatively, you may be managing a new patient or newborn with complex medical issues for whom a comprehensive approach would be the appropriate first-line test.
WGS is a powerful tool for detecting known and potential disease-causing variations. While other traditional genetic
tests, such as whole exome sequencing and chromosomal microarray analysis, impart only particular changes in a patient's DNA, WGS is advantageous as a single test to detect variants that may not be amenable to current genetic testing.
WGS can capture virtually all disease-causing genetic variations including single-nucleotide variants, small insertion/deletions, and copy number variants. WGS has multiple applications ranging from being an effective diagnostic strategy for the clinical diagnosis of genetic and inherited disorders to treatment planning and pharmacogenomic uses.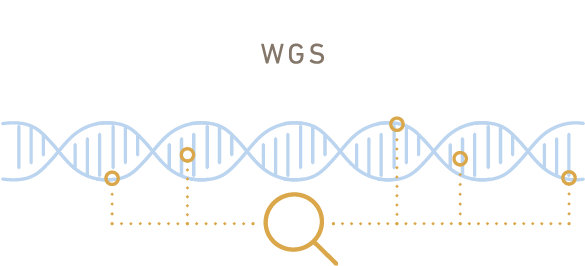 The exome accounts for only 1 – 2% of the whole genome making WGS the most comprehensive test for your patient.
Take the first step with WGS
WHOLE GENOME SEQUENCING
| | |
| --- | --- |
| Test Code | 1800 |
| Specimen Types |    |
| Consent | REQUIRED |
| Parents Needed | REQUIRED |
| Parental Report Included | |
| TAT (weeks) |  8 – 10 |
| Can Elect to Receive Carrier Finding(s) | |
| Can Elect to Receive Incidental Finding(s) | |
| Raw Data Available | |
Indications for Testing
MULTIPLE CONGENITAL ANOMALIES
AUTISM SPECTRUM DISORDERS
NEURODEVELOPMENTAL DISORDERS
DEVELOPMENTAL DELAY
INTELLECTUAL DISABILITY
FAILURE TO THRIVE
DYSMORPHIC FEATURES
EPILEPSY SYNDROMES
PATIENTS WITH AN EXTENSIVE
DIFFERENTIAL DIAGNOSIS
Understanding the Results
Positive or "abnormal" results mean there is a genetic change related to the patient's medical issues. Positive results can come in the form of the following genetic changes:
Related to the Patient's Indications
Single nucleotide variants/indels
Copy number variants (CNV)

Structural variants (SV)
Absence of Heterozygosity (AOH)
Unrelated to the Patient's Indications (Opt-in only)
Carrier findings

Disorders recommended by the ACMG & ACOG

Incidental finding

Incidental findings recommended by the ACMG
A genetic change related to the patient's issues was not detected using this test. This does not guarantee that the patient is free from genetic disorders.
Results of Unclear Significance
WGS can detect change(s) in DNA that do not have a clear meaning known as a variant of uncertain significance (VUS). Every person has changes in their DNA; not all these changes cause medical issues. Studies of family members may help resolve the uncertainty
Incidental Findings
WGS can sometimes detect a change in a person's DNA unrelated to the reason for the sample being sent for testing. If this change is medically significant, it is called an incidental finding. Possible incidental findings include mutations that increase a person's risk for cancer or heart disease. It is optional to receive results on incidental findings. Information regarding adult-onset dementia syndromes, such as Alzheimer's disease, or other adult-onset neurological conditions will not be reported.